This page current as of 3/19/2017
Some bikes are marked as "in storage." These bikes are located in a separate storage in Wallingford. Please e-mail us to arrange a time to view them.
For the others, come to the Bike Shack in Wedgwood during any open hours to check them out. All bikes sold as-is, but you're welcome to buy a bike and then work on it here, and get used parts in the shop for an additional cost.
Red Schwinn
1973-4 24in Varsity with 26in wheels
(this bike is currently being rebuilt)
Lightly used Early 80s 50cm Raleigh Technicum with 27 x 1/1/4 wheels, Triple crank, and Blackburn rack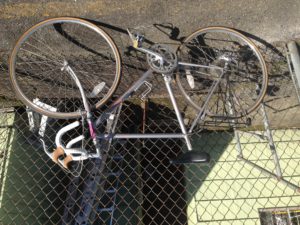 -Schwinn Racer mountain bike with front shocks (missing chain, cables) [$40 – in storage]
-small (47 cm) blue Zephyr stepthrough bike (missing front tire and chain, bent rear dropout) [make an offer – in storage]